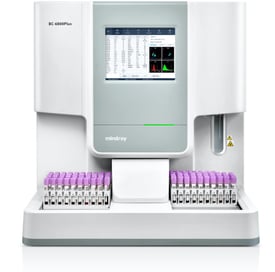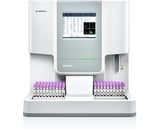 Mindray 6000
The Mindray 6000 is a modular, fully automated chemistry analyzer used in clinical laboratories for high-throughput testing of various biochemical parameters. It is designed to provide accurate and reliable results quickly and cost-effectively.
High throughput: It has a throughput of up to 600 photometric tests per hour, allowing for fast sample processing.

Large menu: The analyzer has a broad test menu, including clinical chemistry tests, therapeutic drug monitoring, drugs of abuse screening, and specific proteins.

Modular design: The system can be easily customized with various modules to meet specific laboratory needs. These modules include photometric, potentiometric, ISE (Ion Selective Electrode) and integrated sample management modules.

Intelligent sample management: The Mindray 6000 has a sample management system that ensures reliable sample identification, transfer, and tracking. It has a large onboard sample capacity and can handle different tube types and sample volumes.

Quality control: The Mindray 6000 incorporates quality control features, including automatic calibration, internal and external quality control, and support for Westgard rules.
Overall, the Mindray 6000 is a versatile and efficient analyzer that can streamline laboratory workflows, improve productivity, and enhance the accuracy of clinical testing.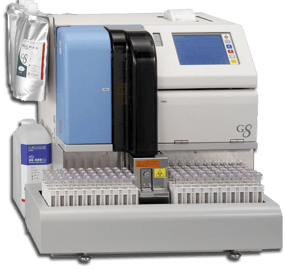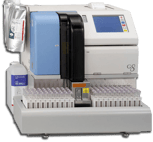 Tosoh G8
The Tosoh G8 is a clinical chemistry analyzer manufactured by Tosoh Corporation, a Japanese company specializing in medical diagnostics and analytical instruments. The G8 is designed for high-throughput testing of various biochemical parameters in clinical laboratories.
Key features and capabilities of the Tosoh G8 include:
Measurement Technology: The G8 utilizes ion-exchange HPLC (High-Performance Liquid Chromatography) coupled with enzymatic analysis for accurate and precise measurement of analytes.

Test Menu: The analyzer has a comprehensive test menu, including tests for hemoglobin A1c (HbA1c), glycated albumin (GA), fructosamine, urine albumin, and other clinically relevant markers.

Sample Handling: The G8 supports both primary tubes and microtiter plates, enabling flexibility in sample types and volume.

High Throughput: With its fast analysis speed, the G8 can process a large number of samples in a short period, making it suitable for high-volume laboratories.
Overall, the Tosoh G8 is a advanced clinical chemistry analyzer that offers a wide test menu, high throughput, and accurate measurement technology. It provides efficient and reliable results for a range of biochemical parameters, making it a valuable tool for clinical laboratories.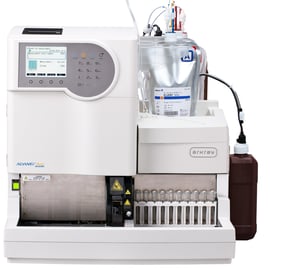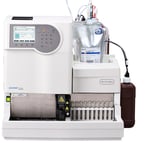 Arkray Adams A1C HA 8180 V
The Arkray Adams A1C HA 8180 V is a compact and fully automated HbA1c analyzer used for the measurement of glycated hemoglobin (HbA1c) levels in blood samples. It is manufactured by Arkray, a Japanese company that specializes in the development of medical devices and diagnostic products.
Key features and capabilities of the Arkray Adams A1C HA 8180 V include:
Testing Method: The analyzer employs a latex agglutination inhibition immunoassay method for the measurement of HbA1c. This method offers accurate and reliable results.

Sample Handling and Throughput: The HA 8180 V has a high sample throughput, capable of analyzing up to 120 samples per hour. It supports both whole blood and hemolysate sample types.

Easy Operation: The analyzer features a user-friendly interface with a touchscreen display for easy operation. It also offers intuitive software for result interpretation and data management.

Compact Design: The HA 8180 V has a small and compact footprint, making it suitable for laboratories with limited space. It is also designed for ease of maintenance and requires minimal operator intervention.
The Arkray Adams A1C HA 8180 V is designed to provide accurate results, streamline workflow, and improve efficiency in measuring HbA1c levels. It is commonly used in clinical laboratories and healthcare settings for diabetes management and monitoring.